Electronic devices such as phones and computers are heavily relied upon in our daily lives—you're likely reading this article on an electronic device right now! Electronic control devices are equally important and common in the manufacturing sector, which is why there is high demand for industrial electronics technicians and engineers to design, build, troubleshoot, and maintain these electronic devices. Electronics technicians themselves are responsible for adjusting, testing, repairing, and maintaining a variety of electronics, such as: control systems equipment, communication equipment, medical monitoring devices, and computers.
Electronics Technician Salaries
According to Neuvoo, the average salary for an electronics technician is $21.02 an hour in Canada. Annual salary ranges from $26k to $69k (CAD), with $40,983 being the average.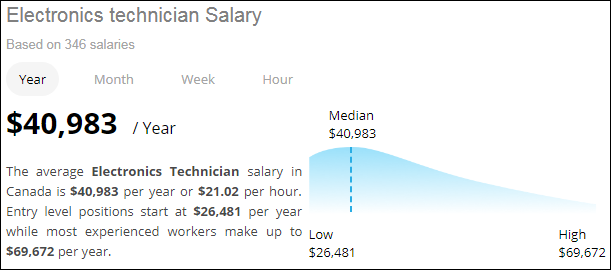 Salary will vary depending on factors such as location, individual skillset and experience, and company.
For example, according to Neuvoo, the average salary for an electronics technician in Ontario is $36k, while the average salary for the position is $64k in Alberta. The average salary for more experienced electronics technicians later in their career is around $52,244.
Entry level electronics technicians are required to have a basic knowledge of electronics and troubleshooting techniques, and may be responsible for building, testing, repairing, and modifying electronic devices. More experienced technicians can expect to perform the same duties, but can have advanced responsibilities such as assisting in the design, development and testing of electronic components, equipment, and systems, and working on schematic drawings.
Becoming an Electronics Technician
There are many ways to become an electronics technician, such as acquiring electronics training from a college or university program, and acquiring work experience. For example, the Electronics Technician Certificate program at George Brown College enables program graduates to perform tasks and responsibilities for work within consumer, commercial and industrial electronics.
If you have any questions about the Electronics Technician certificate program, you can speak to a Program Consultant toll-free at 1 888-553-5333 or email us at info@gbctechtraining.com.
Comments
Submitted by Adedayo solomo… (not verified) on Thu, 08/01/2019 - 23:27
Would like to know when it's more ideal to enrol and flexibility of tuition and mode of payment and duration. Thanks
Submitted by Iris on Fri, 11/01/2019 - 10:15
The Electronics program is an open enrolment program with no predetermined time limits. That means the ideal time to enrol is the time that is best for you, based on your schedule. On average it takes 32 weeks of part-time study to complete the program.
The total cost of is $1665. There are two payment options.
Option 1 - Full Registration: $1665
Students register and pay for the complete program at one time.
Option 2 - Pay-As-You-Learn Registration
Initial registration is $345 (includes all learning materials, laboratory simulation software, user guides and Module 1) and registration for each of the remaining 22 modules is $60/module. Students may register for one or more modules at any time.