What is Industrial Electronics and What Does it Look Like in 2022?
The industrial electronics industry manufactures electronic equipment for industrial purposes. Industrial electronics systems include everything from simple components like drives, sensors, and switches to sophisticated power converting technologies, PLCs and robotics. It covers methods and procedures of control systems, instrumentation, mechanism and diagnosis, signal processing and automation of various industrial applications.  Industrial electronics generally refers to the use of electronics for power and control systems, outside of the field of communications. Industrial electronics is a subset of the larger field of electronics and plays a vital role in most major industries including manufacturing, energy, transportation, chemicals, mining, and agriculture.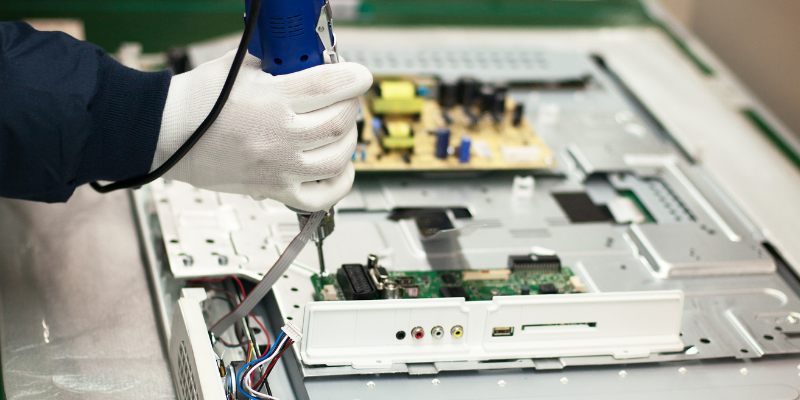 This post will provide a brief history of industrial electronics, outline some of the highlights of the industry today and provide an overview and a few examples of careers in the area.
The History of Industrial Electronics
Industrial electronics began as an industry with the invention and application of vacuum tubes in the early 1900s, used to amplify electrical signals. Rectifiers were developed as early as 1915, followed by phototubes in around 1927. By the 1930s industrial electronics had developed into a thriving business. The vacuum tube was used in early electronic devices and dominated the technology through World War II before being super ceded by transistors in around 1950. Integrated circuits were developed thought the 1950s that dramatically changed electronic circuits in size and technology as entire circuits were integrated into single chips.  Microprocessors emerged in the late 60s, that set the electronics industry on a path of rapid evolution towards the powerful, miniaturized electronics technology we see today. Industrial electronics incorporated these advances over the years into the sophisticated controls, instrumentation, and automation that form the foundation of today's smart manufacturing.
Today's industrial electronic manufacturers are under constant pressure to provide better solutions on tighter schedules and budgets. This pressure comes from increased customer demand for smart devices and innovation in smart manufacturing. The use of smart connected devices enhances production efficiency while lowering costs. This process of providing access to data across an entire supply chain network has enabled industry to keep up with high consumer demand while generally driving costs downward. Manufacturers and consumers both benefit from interconnected digital-based products and technology, increasing value for both. In a competitive and changing market, smart manufacturing is a reliable way for manufacturers to get ahead.
Engineers or technicians in industrial electronics, design, install, test, service, and maintain electronic systems, control systems and automation in an industrial setting. They also assist with making these electronic products or systems as efficient as possible. Engineers are assisted in their work by industrial engineering technicians, who use their analytical, evaluation, and diagnostic skills to help with the development of new systems. The following is a list of some of the most important fields in which industrial electronics engineers and technicians operate.
1. Power Electronics and Motor Drives
2. Control and Mechatronics
3. Industrial Communication Systems
4. Intelligent Systems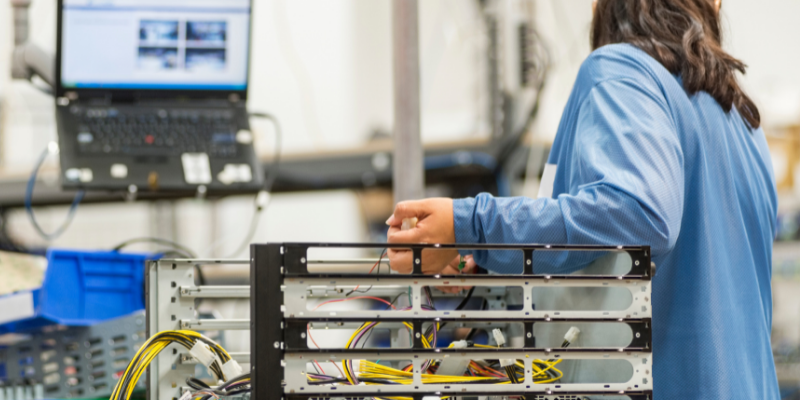 Do you enjoy learning about the inner workings of technological devices? Then you might be a good fit for a career in industrial electronics.
Electric utility companies have continue to see a rise in consumer demand, which has led to a rise in the need for electrical and electronics engineering technologists and technicians. In 2022, expanding networks for industrial communications services such as cellular phones, wireless email, and broadband internet have increased the need for workers in technical positions.  
Industrial electronics plays a key role in improving the efficiency and productivity in industries such as energy, transportation, petroleum, chemical, semiconductor, mining, agriculture, etc. Due to its role in multiple industries, the career opportunity for industrial electronic technicians and engineers continues to grow.
The chart below highlights three entry-level positions in industrial electronics describing education, expected employment growth patterns, and the expected salary levels.
Position

Inside
Electricians

 

 

Industrial Electronics Technician

Elevator
Mechanic

Education/
training Requirements

High school diploma or equivalent; completion of a trade school or apprenticeship program

 

 

High school diploma or equivalent; postsecondary certificate preferred

High school diploma or equivalent; completion of a trade school or apprenticeship program

Projected Job Growth (2019-2029)

8%
(for all electricians)*

 

 

2% (for all electrical and electronic repairers, commercial and industrial equipment)*

7% (for all elevator installers and repairers)*

Median Annual Salary (2022)

$56,900
(for all electricians)*

 

 

$62,010 (for all electrical and electronic repairers, commercial and industrial equipment)*

$88,540 (for all elevator installers and repairers)*
Source: *U.S. Bureau of Labor Statistics. https://www.bls.gov/
The field of industrial electronics continues to expand as technology-based products play an increasingly important role in our lives. While working in the manufacturing industry, workers must continue to train up and stay current with industry technology and developments, especially given the industry's very competitive aspects.

George Brown College's Electromechanical and Electronics Technician programs, prepare students for work in many aspects of the dynamic industrial manufacturing industry. If you have any questions about the Electromechanical Technician program, please contact us at info@gbctechtraining.com or call 1-888-553-5333 to talk to a Program Consultant.
 
Comments
Submitted by archford mawanza (not verified) on Sun, 09/18/2022 - 15:04
i would like to learn more about industrial electronics engineering
Submitted by Iris on Mon, 09/19/2022 - 09:01
We offer 6 other online technical Certificate programs:
Electromechanical, Automation, PLC and PLC II (a more advanced PLC Program), Robotics and Electric Vehicle. Please visit https://www.gbctechtraining.com/programs 
Submitted by Iris on Thu, 03/02/2023 - 07:27
The Electronics Technician Certificate program provides a introduction to electronics systems and a complete in-depth introduction to the fundamentals of applied electronics. It covers the basics, from series circuits through to digital electronics. This program provides hundreds of practical laboratory experiments using two innovative simulation environments, (3DLab and CircuitLogix), to demonstrate theory and showcase examples from industrial and manufacturing electronics.
For further assistance, contact a Program Consultant toll-free at 1-888-553-5333 or by email at info@gbctecttraining.com