How Much Math Should I Know for the Electronics Program?
Are you interested in our Electronics Technician Certificate Program, but not sure if your background in math meets the math requirements? Don't worry! This post will talk about what math skills you need and if you're not sure if you have them ways you can improve your math skills.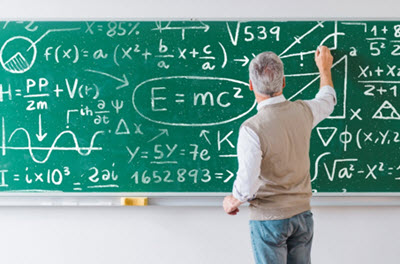 Generally, in order to be prepared for the math covered in the Electronics Technician Certificate Program, you will need a high school level understanding of math, including concepts like integers, fractions, decimals and exponents. However, if you are worried about upgrading your math skills, there are many ways you can tackle that.
Do you have the math skills needed?
High school level math courses should provide a solid foundation for you to register in this program. In this program you should be comfortable performing operations using concepts such as: integers, fractions, decimals and exponents. These math skills will help you at work.
Are you lacking confidence?
Many people experience math anxiety, but realize you're not alone. It's common for someone to have a negative attitude towards math. This feeling could come from bad memories of doing math as a child or   failing an exam in college. However, you can change your perception of math. First, you will need to change your mindset and realize that being good at math is not an innate ability. Just like any other skill, math is a skill that can be learned overtime.
Are there gaps in your knowledge?
Math skills build upon each other. Therefore, it will be difficult to learn an advanced skill if you're missing a foundational skill. For this reason, you may have a difficult time understanding advanced math concepts. However, you're not alone, as this is problem is fairly common. The American Institutes for Research says that at least 30 percent of the adult American population lacks basic math skills. That's over 58 million American adults, which is 25 percent of all working adults. Fortunately, you can improve your math skills as an adult with practice and the right resources.
Luckily, there are several online resources that can help you overcome any skill gaps; such as Khan Academy, Patrick JMT, Brilliant and Coursea. There's also prep courses available through George Brown College.  
Don't be afraid to ask questions
The Electronics Technician Certificate program provides access to a Student Forum where you can reach out and ask questions. It will allow you to learn faster, share knowledge, gain deeper insights and develop more innovative solutions. In addition, you will have a chance to speak to fellow classmates in the same program.
Seek additional resources
There is additional support available if you need it. The GBCTechTraining Learning Centre has supplemental materials including brain teasers that review module material and math concepts and mini video tutorials. Check out the videos below explaining scientific notation.
Our Practicing Electronics Technician Handbook is another useful tool to refresh your math knowledge and provides key equations pertinent to electronics. 
I hope this has answered some of your questions or concerns that you may have. A solid understanding of mathematics is an essential component to practicing as an Electronics Technician. It will allow you to understand systems and move through the program content confidently. If you have any further questions or are ready to register for a program you can reach one of our Program Consultants toll free at 1-888-553-5333.