How the COVID-19 Pandemic Shaped the Demand for Electronics Technicians
The wide-ranging effects of the COVID-19 pandemic no doubt caught every industry in the world by surprise. Many companies had to close their doors to customers and significantly reduce the number of workers present to ensure the safe production of essential goods and provision of services.
What was thought to be a temporary adjustment to production is becoming a "new normal" for manufacturers. Many are implementing industrial automation practices to reduce physical manpower requirements, and it's likely these new technologies are here to stay. As a result, the demand for qualified Electronics Technicians (ETs) is likely to increase post-pandemic.
In order to understand how this career has been affected by the pandemic, it's important to understand what an ETs role is, how industrial automation has increased in 2020, and the reasons why ETs will be in demand.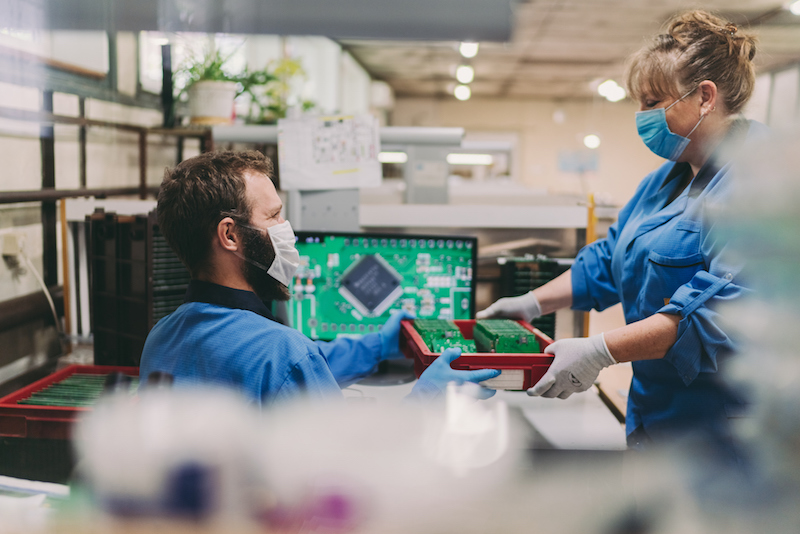 What Is the Role of an Electronics Technician?
Electronics Technicians provide a wide range of support and services in the design, development, testing, production, and operation of electronic systems and equipment. Those who complete an accredited program are trained to be service technicians in the field of consumer, commercial, or industrial electronics. ETs receive electronics training from a designated program or technical college and when they enter the workforce, they're able to specialize in certain skills or a particular field.
An ET may be contracted by an individual or small business to install, repair or service electrical systems or equipment; however, it's becoming increasingly common for larger companies to hire full time ETs to handle the ongoing maintenance of its automated and electrical systems. Common duties can include: implementing new electrical systems and products based on specifications, monitoring maintenance and inspection plans, or repairing and maintaining electronic systems. They can also be responsible for evaluating performance and functionality by performing regular system tests and recommending upgrades or modifications to existing systems to improve performance.
How Manufacturing Has Changed During the COVID-19 Pandemic
The pandemic affected almost every workplace globally, from small businesses to large corporations. While office employees were able to transition to working from home, factories and industrial workplaces experienced unprecedented challenges. Supply and demand, along with workforce availability, put extreme pressure on manufacturers as social distancing and workplace safety measures meant that only approximately half of their employees could perform their jobs on-site. 
As a result, we've seen a significant link between the changes in manufacturing and the adoption of artificial intelligence (AI). AI had been being increasingly implemented in manufacturing and industrial settings for decades before the pandemic provided the demand for sudden changes and a more rapid incorporation of AI solutions. Factories needed to quickly adapt their existing robotics to handle the demand, or install brand new systems.
The initial impact of the pandemic on global economies was driven by a significant shift in global supply and demand, as lockdowns defined what are  "essential goods." Many specialist companies who produced a limited selection of goods before the pandemic may have seen a significant decrease in demand for their products. As the weeks and months continued, some decided to shift to more profitable markets.
For manufacturers, scaling down on on-site employees meant keeping select personnel to oversee production, as well as technicians for the installation and maintenance of systems. The "virtual shift" for those who could work remotely meant other employees, as well as vendors and contractors, needed site access and special programs in order to keep operations running from their homes. Real time data, AI technology, and the Internet of Things (IoT) enabled a smooth transition, with the virtual shift helping to make the workforce more focused and efficient. Virtual work is the new reality, and every industry needs to accommodate the necessary changes. 
What Industries Will See an Increased Demand for Electronics Technicians?
Since Electronics Technicians are essentially technicians who design, maintain, and repair electronic systems, the need for ET professionals is present at some point in almost every modern industry. There are certain industries which have significantly changed due to the COVID-19 pandemic, and will likely see the highest increase in demand for ETs. 
As industrial workplaces and manufacturing facilities continue to implement automated systems, the need for electronic technicians will increase. From designing and installing new systems, to regular maintenance and repairs, to upgrades due to technological advancements, factories will find the need to regularly contract ETs or even hire full-time employees.
The telecommunications services industry experienced a critical increase in demand at the start of the COVID-19 pandemic, as staying connected became crucial for every business, organization and individual around the globe, creating an unprecedented demand for real-time information. Businesses needed to keep operating, but with most personnel working from home, further increased the demand for real-time information, requiring fast and efficient internet and broadband services. Public and private sectors have all seen a drastic shift from in-person shopping and services to online and virtual alternatives. For consumers, mobile phones and internet connection have become essential tools. To keep systems running without interruption, skilled Electronic Technicians must be available on-demand to resolve any technical difficulties that occur. 
Transportation for both business and pleasure has seen a drastic decline since the start of the pandemic, as many countries imposed restrictions which limited or banned non-essential travel, both domestic and international. However, the decrease in passenger transportation contributed to an increase in the transport of freight and essential goods. The surge of online shopping orders created more demand for air, sea and land couriers to make deliveries. With the reduction of staff allowed to be working at ports and warehouses, many companies in the transportation sector adopted AI solutions. 
For large companies like FedEx, automation has taken over a majority of the tasks  in warehouses, reducing the need for physical workers. For example, the recent implementation of robotic truck loaders has improved efficiency with loading and unloading cargo.
The Demand for Electronic Technicians Will Continue to Increase
At the start of the pandemic, many thought the changes in production for manufacturers and the shift to working virtually for other industries was temporary. After implementing more automation and AI in manufacturing and offering more opportunities for working from home, it is most likely these new technologies and ways of business will be permanent developments.
With all these changes, the need for trained ETs will continue to increase. Though manufacturing industries have experienced the most drastic changes in production, and the need for technological solutions, almost every sector of business has been affected. This is why electro technical technician certificates are becoming more and more popular amongst individuals looking to expand their career. With the shift to the virtual world comes increasing dependence on fast and efficient data access and collaboration with the IoT.
If you're interested in gaining further education in tech, our Electronics Technician Training Program can help you achieve your goal.