6 LinkedIn Tips for Job Hunting Electronics Technicians
LinkedIn might seem like it's only for office workers, but this is no longer the case. Nowadays, every industry—including manufacturing—is on LinkedIn. There's a large number of recruiters looking to fill technical positions on the platform, too. In fact, over 90% of recruiters will scan your LinkedIn profile as part of the recruitment process. If you're not on Linkedin already, it's time to get started. Below are six tips on what electronic technicians and other professionals should include on their LinkedIn profile to land an interview.
1. Optimize your headline
When recruiters are looking for talent, they would enter certain keywords, such as "Electronics Technician" into LinkedIn's search engine to find people who fit their criteria. It's essential to include relevant keyword in the headline field so you can rank for that keyword. This technique is called Search Engine Optimization (SEO).
You also want to avoid generic headlines, such as "Professional in the food and beverage industry," or even worse, "Looking for opportunities" since these headlines won't get you far. Instead, be specific about your job title with something like "Electronics Technician at ABC Corporation."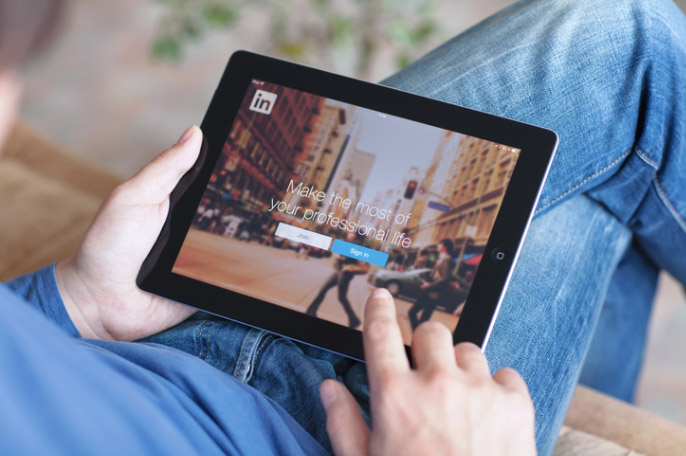 And don't forget to include your location and industry, as this is also highly relevant information to search engines. According to LinkedIn, the top industries for Electronic Technicians are Electrical & Electronic Manufacturing, Information Technology & Services, and Oil & energy.
2. Use your summary for additional keyword content
Your summary allows you to get a lot of keywords in. It's also a place where you highlight your achievements and qualifications. Include relevant skills for the job description, such as the following (some of these are from job descriptions for Electronic Technicians on Glassdoor):
Strong circuit board troubleshooting expertise
Solid knowledge of MS Office Applications
Excellent motor skills and in depth knowledge of programmable logic controllers, operator interfaces, and automated process equipment
Expertise in analytical, logic and fault finding skills in troubleshooting and repair of process/packaging machinery and preventive/predictive maintenance systems
As well, be sure not to have too much information. After all, this is only a summary. Nobody wants to read a 2,000 word summary that's one big block of text. Keep it short and break it up with lots of white space and bullet points.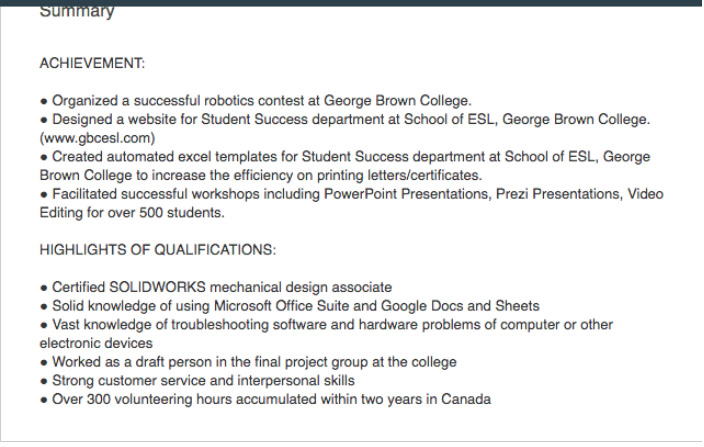 If you need more inspiration, have a look at job postings on LinkedIn, Glassdoor, and Indeed to see what kinds of skills and keywords employers are looking for.
3. Choose a professional photo
Your profile picture is one of the most important elements of your LinkedIn presence. In fact, according to LinkedIn, just having a picture makes your profile 14 times more likely to be viewed by others. Below are some things to keep in mind for your professional photo:
Choose a photo that looks like you
Make sure your face takes up at least 60% of the frame
Make eye contact (avoid sunglasses)
Dress for your role
Head to shoulders or head to waist in frame
Avoid busy backgrounds
Keep it professional
Your profile picture can reveal a lot about you and your attributes. So be sure to pick a professional picture that can help you make a good online first impression.
4. Collect endorsements from your networks
In your Skills & Endorsements section, you can add a list of skills that will further help you get found on LinkedIn's search results page. Consider a list of skill recruiters are searching for that fits with your job description. LinkedIn also provides insights about people with a specific job title, such as an Electronics Technician. According to LinkedIn, below are the top skills for this job title:
Electronics
Troubleshooting
Test Equipment
Soldering
Electronics Repair
Maintenance
Maintenance & Repair
Electrical Wiring
Testing
Preventive Maintenance
Computer Hardware
Electrical Troubleshooting
Programmable Logic Controller (PLC)
Not only should you list out your top skills in your profile, you also want to obtain Endorsements on them to help improve your searchability. Reach out to your networks for Endorsements. Sometimes it helps by endorsing other people first to obtain a favour.
5. Improve your experience section
Although your headline, image, and summary are the first things that someone viewing your profile will read, it's also important to improve your work experience section. Your work experience section should start with an overview, with two or three sentences explaining what your job entails. Include facts and figures and use actions words such as "responsible for…" or "duties included." Highlights your achievements and check for spelling and grammar.
You also want to make sure you link your job to the company, which will show your current or previous company's logo on your profile. The same applies to your education section. For instance, be sure to add your Electronic Technician Certificate program completion with George Brown College to give yourself more credentials.
6. See what works for other people
You can always see what works for other people to get inspiration. Simply conduct a quick search on LinkedIn to see which profiles are cropping up on your search results page. Ask yourself, what do these profiles have in common? What keywords am I missing?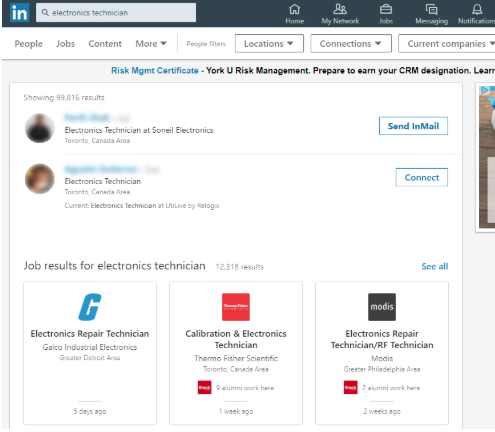 Take what you observe and use it on your own. Blend a few ideas from the best profiles out there.
Linkedin is where the jobs and recruiters are
If you are looking for an electronics technician or other technical job, Linkedin is a great place to be. Check our career prospects page to learn more about what kind of industries are looking for candidates.